And all the basic white girls said, "Yes and amen."
Something to Eat
Oh, how original, Caroline to eat soup when the weather gets chilly. I know. I know. But it's what I love, and I welcome soup season with open arms and a spoon in hand. I look forward to this roasted cauliflower soup once I know soup season is nearing. It's one of my favorites. I recently tried black bean soup on a whim at a restaurant. I wasn't sure why the whim happened, but I was glad it did. It was delicious. Pretty? Not really, but we can't all win beauty pageants. I'm sure I'll soon be making some at home. Cookie and Kate's recipes have never steered me wrong, so I'll probably try this one. Although, the one I had was completely smooth, and I preferred it that way. Serve it with cornbread or a cheese quesadilla and then watch Wheel of Fortune for a completely exciting night. (because I will)
P.S. These are my favorite soup mugs. They make your meal extra comforting.
Kat
I went to Trader Joe's last week and literally everything in my cart was orange. Not kidding. Not embarrassed. I went to the store on Monday to get groceries for the week, including canned pumpkin so I could make my favorite fall pasta. But not a canned pumpkin could I find. I even went to a second grocery store on a rainy Monday afternoon because that's how much I wanted this pasta. Still nothing. I won't stop until I have this pasta. If you're fortunate to find pumpkin, make this pasta.
Something to Watch
Caroline
A friend of mine (Shoutout to Jody!) told me a while ago she had never seen Stepmom. I was truly appalled. Why am I friends with her? Since it's the perfect fall movie, I told her we would be having a viewing party. Anyone else want to come? Also, I need help with the menu. It's a wonderful movie, but it's a difficult one to match with a menu.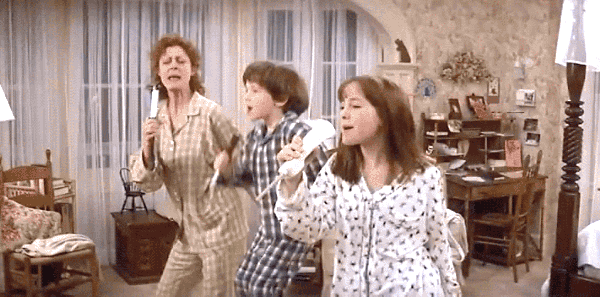 Kat
Season two of Love on the Spectrum is now on Netflix. You probably haven't been waiting on this, but I have. If you need a feel good watch this fall, give this one a whirl. I'm pretty sure I've talked about it before, but it's a reality show following young adults on the autism spectrum who are learning how to date for the first time. It's the purest form of joy.
Something to Wear
Caroline
When the temperature drops, you need to cover your feet, people. No one wants to see your hooves in November. I promise. May I recommend the Rothy's sneakers? I love mine so much. Naturally, I chose the leopard because I'm such a wild,free spirit. *See above about soup and Wheel of Fortune watching*
Kat
I don't super understand the "shacket" trend. I feel like I'll end up looking like my father when he picks up pecans.
We promise he's not a serial killer even though it appears that way in that picture.
I never thought I could wear a jean jacket either because I thought I'd look like Zack Morris. Apparently, I just have a complex where I think I look like a man. BUT I love my jean jacket and wear it like once a week. It's a nice staple to have. And if you want that "Chuck Stewart picking up pecans" look…this shacket is highly rated.
Something to Buy
Caroline
I had a chambray shirt that I wore all the time, and I have no clue where that thing is. I'll be purchasing this one since I'm a spazz and have started to lose clothing.
Kat
Ok. So I lied. I also had these in my basket at Trader Joe's the other day too. I put a couple randomly around my house including one in my closet. I went to the doctor's office yesterday and had to wear a mask, and it was cinnamon scented because of that tiny little broom. Made the three times they attempted to draw blood slightly more bearable.
Something to Do
Caroline
The first thing that came to mind was enjoy the fall weather. Once again, how original, Caroline. However, in the south, fall temperatures don't really cooperate for a while. You often get a tease and break out the sweatshirts and then it's 85 degrees again, and then the lower temperatures will finally stick. Mark and I are going to Boston in a couple of weeks, and honestly, one of the things I'm most excited about is walking around a pretty city and not sweating. Mark grew up in New Jersey and went to college in Colorado; he won't be as excited about this as me, but whatever; I guess I can still deal with him. I also can't wait to walk around Harvard like Lorelai and Rory did on their tour, and if there are orange and yellow leaves on trees, that will be the cherry on top. I don't think Mark will amuse me in me wanting to pretend to be Lorelai, so does anyone want to travel with us who will amuse me? The fact that I'm currently watching Gilmore Girls while typing this probably had something to do with this. Sidenote: I officially started my annual fall watching of Gilmore Girls today, and it just puts me in the best mood.
Kat
Every fall my friend, Jen, makes caramel apples. It's become a fun fall tradition that she allows me to participate in.
I love it, BUT I saw this variation on caramel apples and think it's a great idea, especially for children. You just slice the apples and make "pops" instead of having a whole apple on a stick. Roll it in caramel. Roll it in chocolate. Sprinkle some oreo pieces. Voila.
Thanks for joining us on this first day of fall! Now, who wants to go pecan picking with our father?