Things we talk about often on this blog: TV, the ridiculous things our mother says, and food-a trifecta of blog gold. Since food is a hot topic around here, I thought it would be fun to share some of my favorite food related Instagram accounts. A little while ago, we wrote a post on some food blogs we love. Since apparently that's not enough, I decided to do this post as well.
-Savoring the Flavoring-
This was one of the first accounts that came to mind. I love her personality, and I love the food she makes. What a girl. I also appreciate her approach to food-eat healthy but have a treat every once in a while. I've gotten so many ideas from her, and they have all been good.
-Family Savvy-
I recently started following this fellow southern gal. She pretty much shares every night what she is making for dinner, and I love that because A. I get ideas and B. I'm nosy. Sidenote: Whenever my students and I had a minute or so we needed to kill, I always loved asking what they had for dinner the night before, and they loved sharing it. Like I said, I'm nosy.
-Chelseas Messy Apron-
I'm often told by my mother random people that the way I eat is annoying. (I'm rolling my eyes) This gal is someone my mother random people wouldn't say that about. She has a lot of good ideas and isn't afraid to use M&Ms.
-Weelicous-
This lady loves some fresh produce, smoothies, but also things like donuts in the air fryer.
-The Food Nanny-
She's a fun follow for her food and also her personality. She reminds me so much of this girl that dated Joey on FRIENDS. Remember her?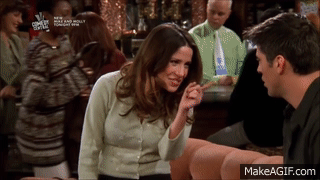 She also has cows named Fannie and Moose, and she just goes outside with bucket in hand when she needs milk-just like Kris Jenner does I'm sure.
-With Peanut Butter on Top-
With a name like that, why wouldn't you follow her?
-Naptime Kitchen-
She seems like someone I could be friends with, and I like her ideas, and her "no frills" life she shares.
Honestly, I had several more to share but thought that was enough for today. Give them a follow and then invite me over for dinner.
Peace, love, and peanut butter on top,