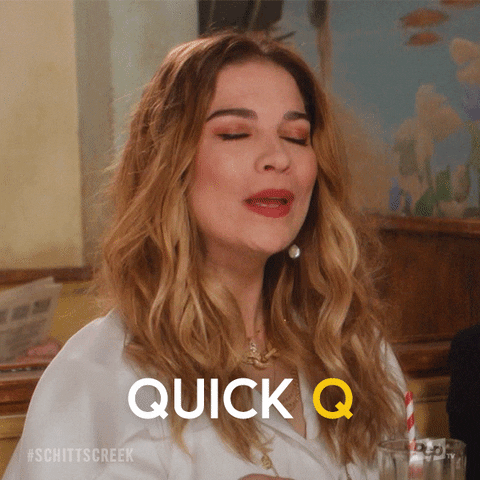 Who doesn't love to read pointless nonsense? Well, we hope you're not that person because that's just what we have today-some fun, random questions that you can carry with you to the dinner table tonight when your husband just wants to talk about inflation. Just me? Consider yourself fortunate if that's not you. Here we go.
What's something about you that would definitely put you in the category of "weirdo"?
Caroline
This will for sure label me as a weirdo. I can't eat during movies or shows that are old or set during an old time period. I've had this complex for a very long time. I can't remember exactly how old I was, but I remember the first time I discovered this. I was maybe 8 or 9 and was trying to watch The Secret Garden and eat a Krispy Kreme doughnut. I was starting to get grossed out and couldn't eat the doughnut. What a shame because it was probably a chocolate one too. I can't really explain it and when I try and explain it someone else, they just stare at me. It just grosses me out for some reason. A League of Their Own is one of my very favorite movies, but can I enjoy a snack during it? No way. Someone asked me once how far back in time do I start to get grossed out-valid question. I think anything in the early 80's or before fits the bill for me. So, please don't invite me over to eat dinner and watch Casablanca. I'll just have to close my eyes while I eat.
Kat
I'm the Queen of Quirk, and I'll readily admit that. I had the hardest time thinking of something for this question. I had to outsource because clearly everything I do makes sense to me.

My best friend, Whitney's response: You faint if someone just says "amniotic fluid" to you, and you're really weird about dates. It makes no sense and you have no rhyme or reason for it.
She's not wrong. Praise the Lord that my birthday is on an even numbered month and even numbered date. If I had been born on September 27th? Forget about it.
Caroline's response: It's weird that you don't like animals. And it's really weird that you applied to work at the zoo one time.
That was a dark time in my life.
What's the most useless talent you have?
Caroline
I'm sure I have several, but the first that came to mind was I can tell you which season of FRIENDS and episode is just by their hair styles. Season 2 is one of my favorites, but Monica's bangs in that season just make me want to grab them through the screen and get them away from her eyes. Rachel's hair in season 3 was the iconic cut with lots of volume we all wanted, but her hair was farrrrr too long in season 6. Ross was over gelled in season 3 and had a lot of hair going on in season 5. I don't know when I would ever need to be able to put this skill on display, but if I ever do, I am ready.
I'm also pretty skilled at knowing the make and model of an oncoming car based on the headlights. I have a pretty strong accuracy with this. Useful? Only if you're worried you're driving too fast and wonder if the car is a cop. Otherwise, knowing the shape of a PT Cruiser's lights won't get me very far in life.
Kat
You say a word, I have a song for it. It's pretty annoying. Sometimes funny. And it's guaranteed to get that song in your head.
What chain restaurant has the best bread basket?
Caroline
Cheesecake factory. Fight me on that.
Kat
I've asked this question to a lot of people over the past few days, and it has sparked quite a response. Politics divide people, but carbs bring them together. There are so many good options and honestly, I'll never turn down free bread, BUT gun to my head I'm going Cracker Barrel biscuit. Then after I eat my biscuit I'm getting some Christmas decorations and old fashioned candy in the store.
If you could give your teenage self some advice, what would it be?
Caroline
I guess I should say something deep and meaningful here, but I won't. Wear sunscreen everyday and don't ever get within 500 feet of a tanning bed. Stop eating so much garbage. And finally, whatever haircut you are considering, go a different route.
Oy. Please refer to the pictures as haircut proof. Christina Wren, shield your eyes.
Kat
Wear your retainer. Low rise jeans don't look good on your mile long torso. Put your tweezers down.
If someone handed you $20,000 and demanded you do something fun and frivolous with that money, what would you do?
Caroline
A bougie day of meals and scenery. That's what I'd do. I'd rent a private jet and hop around the good ol' USA for each meal. Blueberry pancakes whilst overlooking beautiful Maine? Done. Lunch in Jackson Hole overlooking the mountains? Yep. Then I think I could do dinner somewhere and then dessert somewhere completely different just to be able to hit up another place. I'd love to do fish tacos in Hawaii, but I just don't know if that would be feasible, but since it's my day of frivolity, maybe I could make that happen. I can't be sure $20,000 would cover this considering I almost threw up when Mark told me one time how much it costs to fuel a plane, but I'll save a little money by making him be the pilot to fly me around for my meal endeavors.
Kat
I'd love to buy out a Disney park for "my people" for a day. And my park of choice would definitely be Hollywood Studios. Now, I'm not one of those "Disney people" with matching shirts and ears. I cannot. But wouldn't it be so fun to be the only people running from The Great Movie Ride to the Rockin' Roller Coaster THEN to get Mickey waffles?
Thanks for reading today! We'd love to hear your answers to a question (or all of them)!
Now who's going to give us $20,000 with those exact demands?