"Where did I go wrong?" The beginning of the chorus of "How to Save a Life" by The Fray, but also me on a daily basis. I frequently listen to Jen Hatmaker's podcast "For the Love" and at the end of every show she asks her guests, "What's saving your life right now?" It can be deep and spiritual or it can be frivolous and funny. If you're looking for frivolous answers, we've got those in spades.
Caroline
I'm coming in hot with my first one-the claw clip. Lucky me because these things are apparently "back." 9 days out of 10 I'm wearing this in my hair because I'm home most days and have no one to impress. Also, wearing a ponytail daily, makes my hair unhealthy, so claw clip to the rescue. They give me early 2000's vibes too, so it's a win-win situation. However, I will draw the line at this little number that I used to also wear in the early 2000's. We were cool high schoolers and called it a "perfect pineapple," and I can say with certainty we looked ridiculous.
2. Pancakes for dinner. We had several rules in our house growing up. One of them was we weren't allowed to watch Roseanne, and another rule was we only ate breakfast for dinner when it was cold outside. I have thrown that rule out the window lately, and I've been doing this about once a week usually on a night when Mark is gone. It's my favorite night of the week.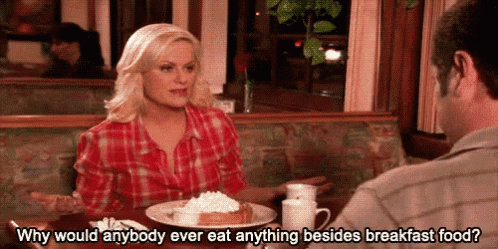 3. Time limits on my phone. You can do this, and it will basically lock you out of certain apps after you've reached the time limit you set for yourself. If you do this, I promise you'll be amazed at quickly time passes when you are looking at something dumb on Instagram. It's a great reminder to pick up an actual book. I was at the doctor recently in the waiting room and was reading a book and not on my phone. Someone commented to me that it was refreshing to see, and I felt very proud of myself. Way to go, me!
4. I'm afraid of everything. Know what's really frightening? When a child is staring at you while you're sleeping hoping you'll wake up and see them. Claire was doing this almost every night. She'd come down the stairs in the middle of the night with this little lantern she keeps in her room like she's Paul Revere. Then she would basically just stare at me until I'd wake up. Terrifying. We got this clock and set it for a certain time in the morning to turn green, and she can't come downstairs until then. It's saving my REM cycle and preventing me from cardiac arrest.
Kat
Countdowns. Countdowns are saving my life. As I'm typing this on Tuesday afternoon, I have eight more "wake-ups" for the school year. Yes, that's how I measure time, and that's how almost everyone at my school measures time now too. How many times do I have to get out of bed, look presentable, be pleasant, and drink coffee from a travel mug and not an actual mug? Eight. I have eight.
2. I'm going to echo Caroline's easy dinner sentiment and say that easy vegetable bowls are saving my life right now. This green goddess bowl from What's Gaby Cooking gives me all the pretty colors and all the nutrients.
3. I'm in training mode right now, so new workout music is saving my life. I'm open to any and all suggestions, and this is an odd, indy song, but it puts a smile on my face and a spring in my step each time it comes on.
4. Manicures. I have awful nails. I'm a nervous picker. Pick a little. Talk a little. That's my motto. I've gotten two manicures recently, and man, nothing makes me feel more put together than well groomed nails. My hair might be dirty and my dress might be wrinkled, but look at my nails.
So, we will pose the question to you. What's saving your life right now? Poundcake. The end of the school year. Yoga. Caffeine. Quiet trips to Trader Joes.