you need to make baked goods. Duh.

Or we do what Jean Ralphio taught us.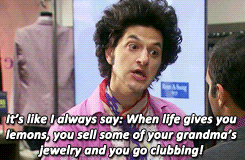 Caroline
I will never not giggle when I hear him say that, or when I see that hair. True story: when my hair was growing out after I had my extensions, I looked like Jean Ralphio at one point. It wasn't my finest, but it might have been my funniest. Ok back to the lemons.
Since spring is in the air, and citrus fruits are plentiful, we thought we'd share some lemon recipes that we enjoy.
I was going to recommend this one, but it's a little fussy as far as ingredients though. (I guess I still recommended it, so if you're fussy like me, try it out.) Then one of my favorite cookbook authors posted her version of a Starbucks lemon bread the other day, and I immediately made it to see how it was. Let's just say eating the whole thing by myself has been tempting. I can pronounce all the ingredients in this, it didn't cost $8.00 a slice, and it's delicious. My mother will still say this is fussy, but she should know me by now. I am who I am.
Ingredients:
-2 cups gluten free flour ( can use regular all-purpose flour)
-1/2 tsp. baking powder
-1/4 tsp. baking soda
-1/2 sugar (She recommends monk fruit sweetener. I used maple sugar, but you can use regular sugar)
-2 Tbs. + 2 tsp. lemon zest
-1 Tbs. fresh lemon juice-DO NOT USE THAT STUFF IN THAT YELLOW BOTTLE
-1/4 tsp lemon extract (optional)
-1/2 cup coconut milk at room temperature (any milk of choice works)
-2 eggs (room temperature)
-1/2 cup oil ( I used avocado)
-1/2 cup maple syrup
Mix all dry ingredients together (flour-lemon zest).
Mix wet ingredients and then add to dry. Stir until combined.
Bake in a greased bread loaf pan at 350 for 45 min.
Let cool and then spread icing if you desire. She recommends the Simple Mills icing for a quick shortcut. I like that one, and I added a little lemon zest to it.

You could obviously make you own, or make a lemon glaze:
-1 cup sifted powdered sugar
-1 Tbs. melted butter
-1 Tbs lemon juice
-1 tsp. lemon zest. Mix all of these together and pour over cooled bread.
Kat
Let me start by saying that I'm very impressed by Caroline's Tina Turner pun above. Let me continue by saying that I love lemon. Lemon pie. Lemon bar. Lemon muffin. Let me at it. But what I really need in my repertoire are dinner recipes. So that's what I have for you today. I love this lemon chicken sheet pan dinner from Well Plated. One pan? Sign me up. I always use sweet potatoes instead of red potatoes though because, like Caroline, I am who I am.
I made Well Plated's Lemon Butter Chicken for the first time this week. I was a fan. She uses coconut milk instead of heavy cream, and while I like my cream like I like my metal, I thought this was a delicious and healthier substitute. I followed her recipe exactly-only forgetting the shallot at the store. If I had a nickel…
Pro tip from me: Make sure that your green beans are thoroughly cooked. She mentions that. I'm here to reiterate.
I had dinner ready in one pan (well two if you count the cauliflower rice I made to accompany) and my grandmother's cast iron skillet got some mileage. Score.
Lemonward and upward, friends.
Is it sad that I thought of more than one Gilmore Girls quote involving lemons? Ugh. Probably, but rind your business.