Today's post is all about gifts for any gal pal in your life such as the queen of Christmas-Kate McCallister. If I were shopping for her, I'd gift her with a first class ticket to Paris because she never got to enjoy her time there. Speaking of Home Alone, if you're a fan, you should watch The Movies that Made Us on Netflix. There's a Home Alone episode, and it's fascinating. Well, it's fascinating to me. I don't think Stephen Hawking would think the story behind the building of the McCallister's house is fascinating. That's probably why we were never friends. Anyways, watch it this weekend. I highly recommend.
My gift suggestions today could be for almost any female in your life plus they are all under $50 except for one. Maybe you'll get some ideas. May I suggest blasting Darlene Love's "Christmas" as loud as you can to really get you in the spirit while you read? Yes, I may.
A subtle initial necklace and a not-so-subtle initial necklace.
The gift for the practical person in your life-a towel hair wrap.
Do people still read magazines? Well, this people does. A few years ago, Mark got me a Pioneer Woman magazine subscription. It still shows up, and I'm not sure he meant for that to still be happening, but I'm not stopping it. A magazine subscription is a great idea for someone who might seem to have everything. It's different, and it's the gift that keeps on giving.
Another fun idea is a Fab Fit Fun box delivered to someone. I don't have this, but Kat does and loves it. You get to pick up to five items in the box, and the rest are surprises. It's a really fun way to try new products and find some new favorites. Kat's most frugal friend is a firm believer in Fab Fit Fun, so that sold me. She should change her insta handle to FabFitFunFrugalFriend.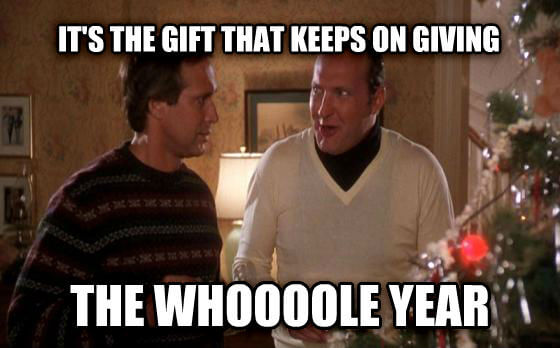 I've mentioned my love of all things Soma before. I love them so much that they asked me to model this robe. I dyed my hair red just so I'd look good in it.
I forever want to live in their pajamas.
Origins face masks make great little gifts or an addition to something bigger. My personal favorite is the charcoal one. Nothing says "Merry Christmas" better than charcoal for someone's face.
Nothing better than comfy mistletoes. Probably one of the best things I own are these slippers. Worth. every. penny.
However, they are a little pricey. If you don't love someone's feet that much, these are a more reasonable but still great option.
If you have a coffee lover in your life, these are good ideas. I am not a coffee lover, but it's Kat's drug of choice, and she recommended these.
This is another product I've mentioned before. They are such a fun gift to give especially this time of year with their seasonal "flavors." I recommend the gingerbread. It's like scrubbing your body with a cookie. Who wouldn't want to do that?
I hope some of these ideas jingled your bells. Good luck in the rest of your Christmas shopping. May your days be merry and your pockets be plentiful.
Also, I've decided I'm ending every Christmas post with this because why wouldn't I?